At the invitation of The Institute for Information Industry (III), UN/CEFACT Vice Chair Mr. Ian Watt made a four-day trip to Taiwan from September 11-14, 2023 to explore the possibility of establishing a cross-border sustainable supply chain ecosystem.
Meeting with Link Join Agriculture
Under the arrangement of III, Mr. Watt conducted meetings with key players of the local supply chain as well as the trade facilitation agency in Taiwan. During the meeting with Link Join Agriculture, a smart agriculture solutions provider, representatives from the company introduced its "Join Farm" platform which empowers farmers with a real-time monitoring system for environmental data and the professional management mechanism for standardized production and field control. In addition, the platform, through a Mobile App, can help analyze and apply AI data to farm management to improve production and efficiency. By using the platform, farmers will be able to reduce costs and increase benefits, enhance risk management capability, secure control information for better yield, preserve farm work records, inherit management experience as well as create reliable and traceable credit for customers. For the aquaculture sector, the company has also developed a similar platform for smart management and standardization.
In return, Mr. Watt made a presentation on the sustainable supply chain ecosystem and encouraged stakeholders like Link Join Agriculture to join the initiative to build up a healthy environment which is beneficial for the development of paperless and digitalized trade.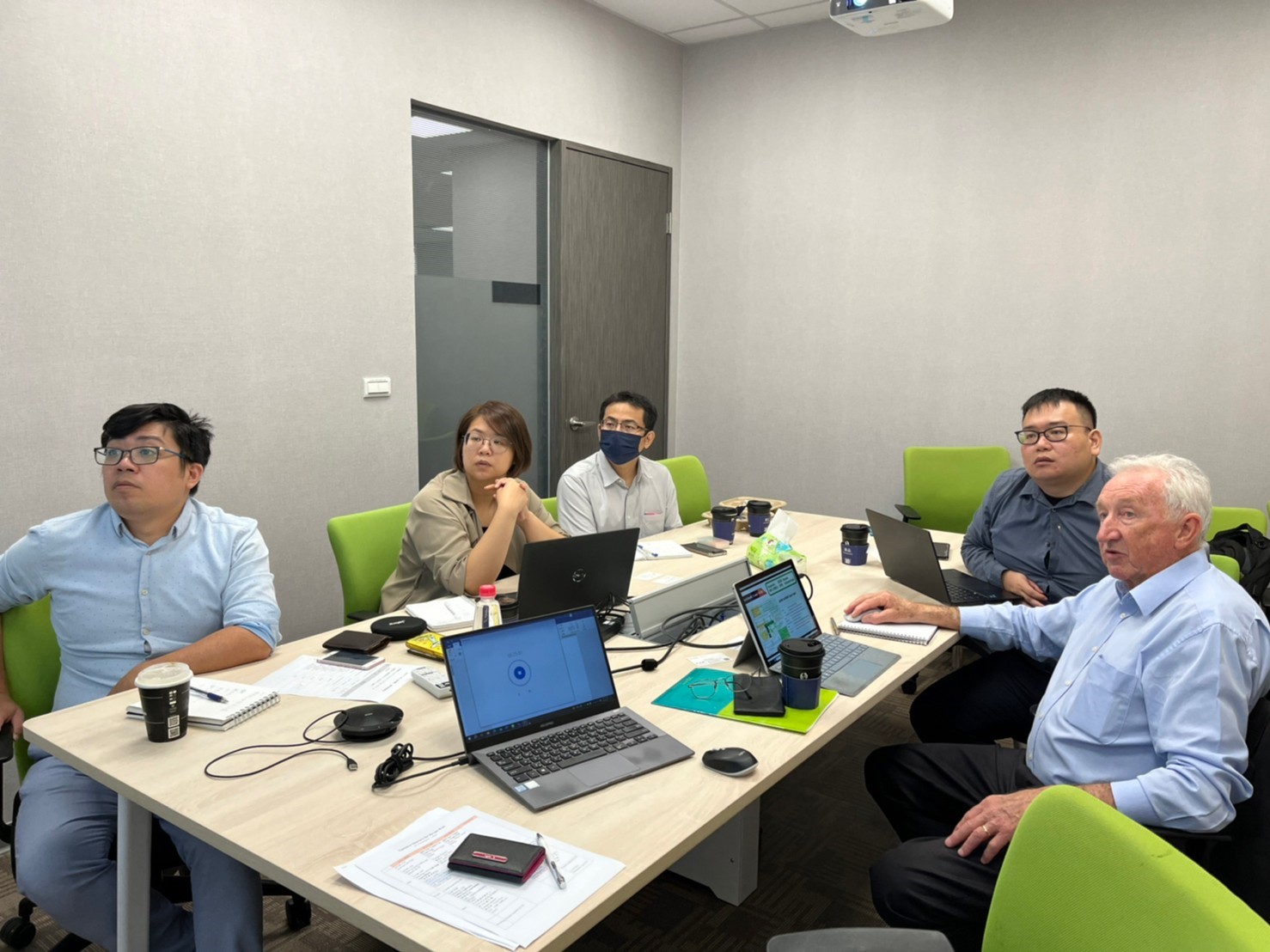 UN/CEFACT Vice Chair Ian Watt and representatives from III and Link Join Agriculture exchanged views on smart farming technologies and the implementation of trade facilitation.
Visit to Galaxy Software Services Corporation
Accompanied by III staff, Mr. Watt called Galaxy Software Services Corporation (GSS) on September 11 and was received by GSS Product Director Mr. Wilson Tien and Executive Secretary Ms. Tina Shao at GSS premises. According to Mr. Tien, GSS, as a provider of enterprise application software and cloud services (SaaS) in the information technology industry, has cooperated with over 2,000 financial services firms, governmental units, hospitals, telecommunication providers, and customers from various industries in Taiwan. The product lines of GSS include enterprise application software, IT governance and information security, project development and operation services, SaaS, and big data analysis. Lately, it has launched a carbon offset verification system that helps industries efficiently reduce their carbon footprints and implement green transformation. This timely system is not only in line with the UN SDGs but also a useful tool to push for sustainable development.
When it comes to advocating of establishing a sustainable supply chain ecosystem by Mr. Watt, Mr. Tien welcomed the idea and shared the current situation in Taiwan. In response, Mr. Watt appreciated the favorable reply, indicating that there is ample room for further cooperation in this regard.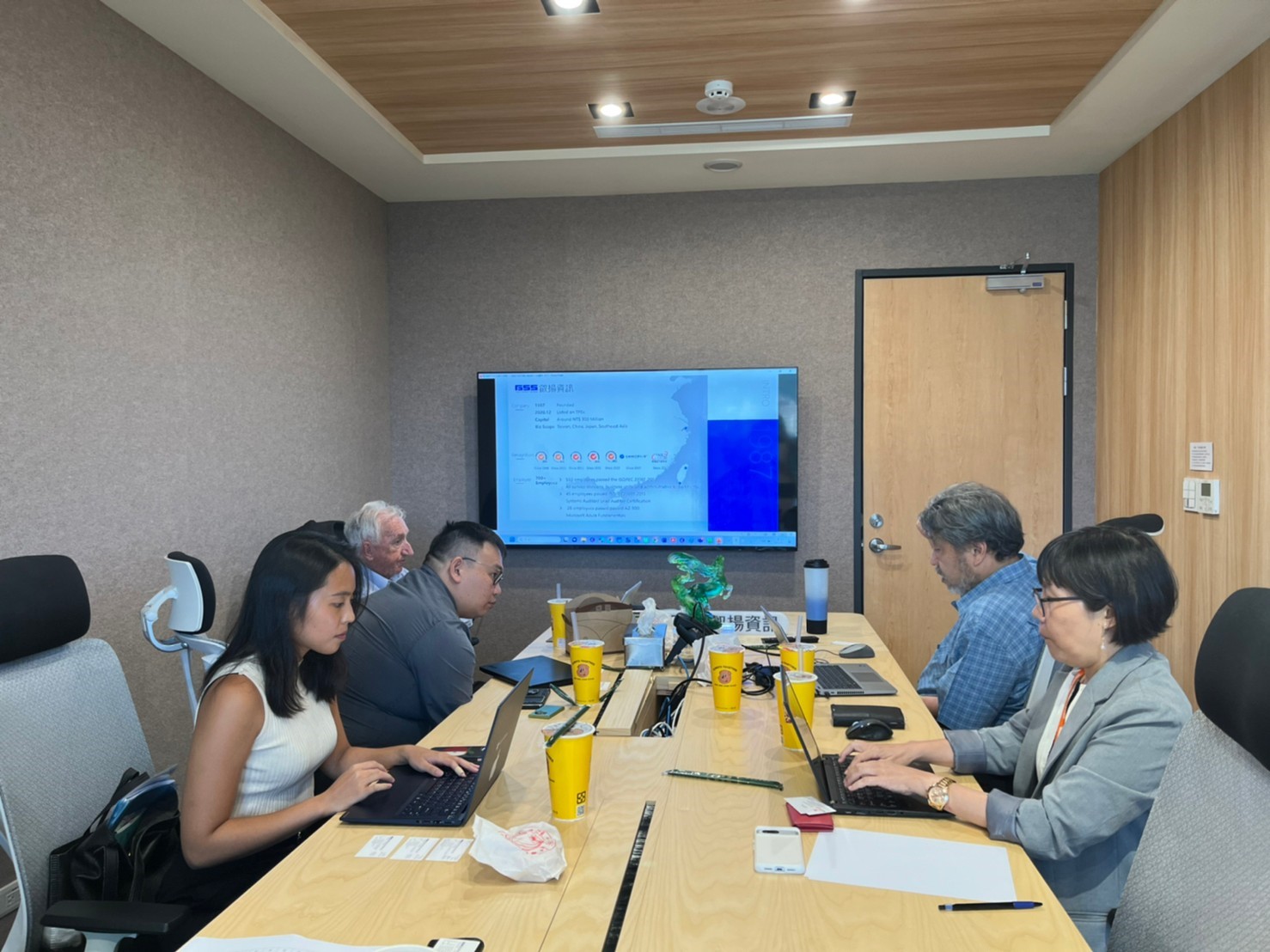 Mr. Watt listened to the introduction to GSS and its product lines by GSS Product Director Mr. Wilson Tien during the meeting on September 11 where he also elaborated on his thoughts on possible cooperation regarding digitalization.
Discussion with TRADE-VAN
On September 13, Mr. Watt had a meeting with Ms. Alicia Say from Trade-Van where the two sides explored the possibility of setting up a sandbox of cross-border trade facilitation through a paperless process.
Citing the importance of transparency and trust, Mr. Watt, in his presentation, explained the model for cross-border paperless trade. Based on UNECE-UN/CEFACT "Pipeline Data Carrier" Standard, the model manages accurate business and product, while trading agreement data drives accurate and complete trade data. The model is developed with the Blockchain and Web3 technologies to ensure the digitalization process is trustworthy and secure. To promote reliable and efficient trade facilitation, Mr. Watt emphasized the importance of implementing the model, possibly with Australia and Taiwan as pilot points.
In response, Ms. Say indicated that for the purpose of supporting trade facilitation, Taiwan has long launched the single window system for trade with the assistance of Trade-Van. As of now, with the efforts by Taiwanese government, all Government-to-Government (G2G) and most of Business-to-Government (B2G) exchanges are following the system which has remarkably contributed to the development of Taiwan's trade facilitation. Recently, Trade-Van has even expanded its business into the Business-to-Consumer (B2C) domain, which provides comprehensive value-added services to its customers. The scope of its services nowadays covers multiple fields ranging from customs clearance, e-commerce, government information services, innovative insurance, cybersecurity defense, online tariff payment, and mobile payment for public health and medical care. Echoing Mr. Watt's initiative, Ms. Say agreed on his idea of establishing a sandbox of cross-border trade facilitation. For the part of Taiwan, Trade-Van would be pleased to be a partner for implementation which she believes would be beneficial to the local exports. As such, the two sides reached a consensus to further develop the proposal of a sandbox in the future.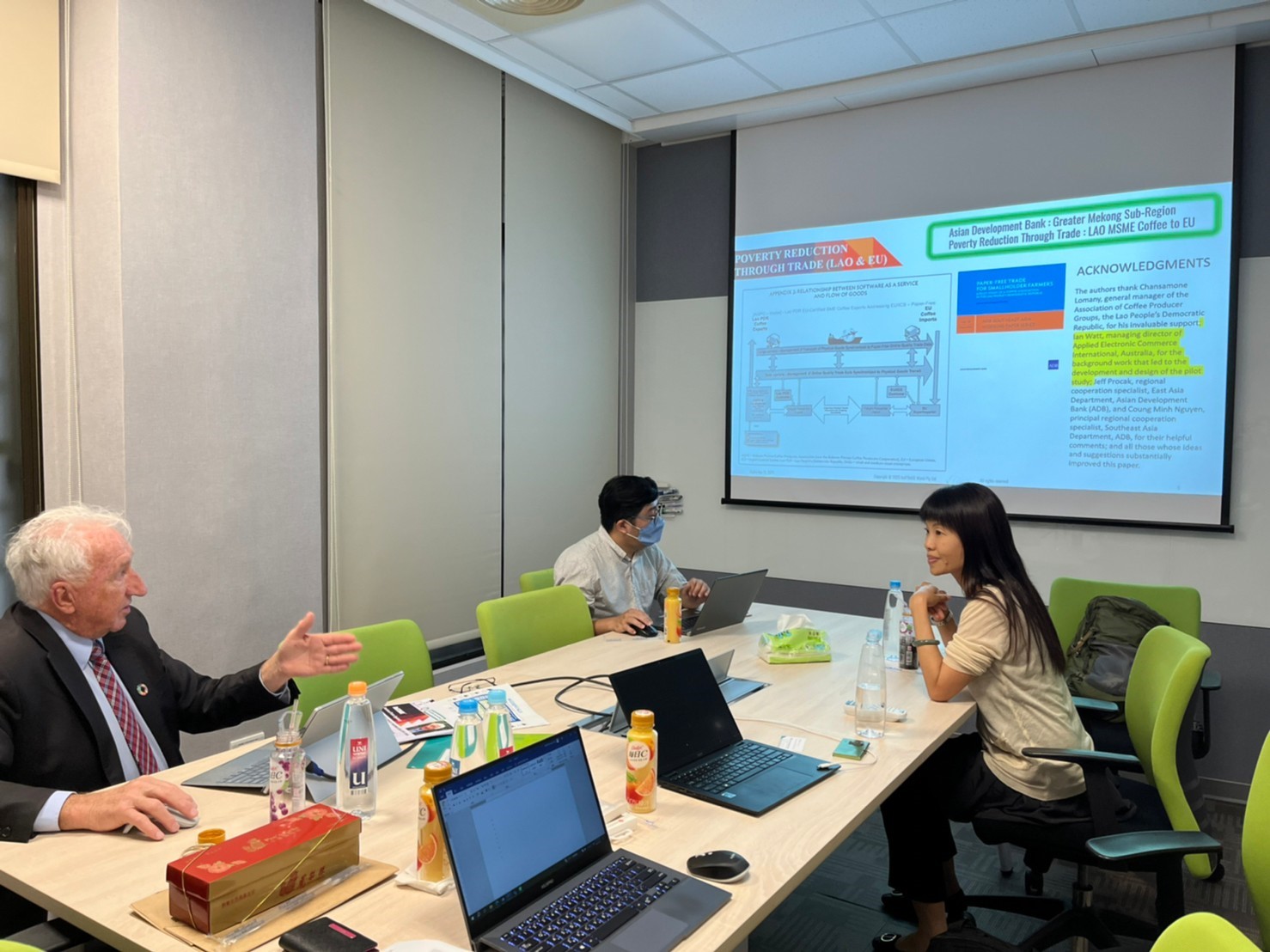 Ms. Alicia Say from Trade-Van and Mr. Watt talked about the possibility of establishing a sandbox of cross-border trade facilitation.
Courtesy Call on III President Dr. CH Cho
III President Dr. CH Cho who is concurrently HoD of Chinese Taipei received Mr. Watt in his office on September 14. As the host, Dr. Cho expressed his warm welcome and his pleasure meeting Mr. Watt again, hoping that the trip to Taiwan would be productive and rewarding to the two sides. For his part, Mr. Watt thanked III for inviting him to join the four-day trip which gave him the opportunity to talk to related parties of the local supply chain, such as the logistics, smart agriculture, and facial recognition companies, and discussed with them the idea of creating a sustainable supply chain ecosystem. He was happy to share that the Taiwanese companies he talked to developed their business with state-of-the-art technologies, and they all responded positively to the proposal of a sustainable ecosystem.
Meanwhile, he also took advantage of the journey to get first-hand information on Taiwan's single window system and trade facilitation measures. According to Mr. Watt, he observed vast opportunities for bilateral cooperation on AFACT-related matters as well as the establishment of a cross-border sustainable supply chain ecosystem. Dr. Cho seconded Mr. Watt's viewpoints and looked forward to working closely with him in the future. Regarding the promotion of cross-border data exchange and e-commerce, the two sides also conducted in-depth discussions on the direction of possible development in the future, including the bilateral coordination between UN/CEFACT and AFACT.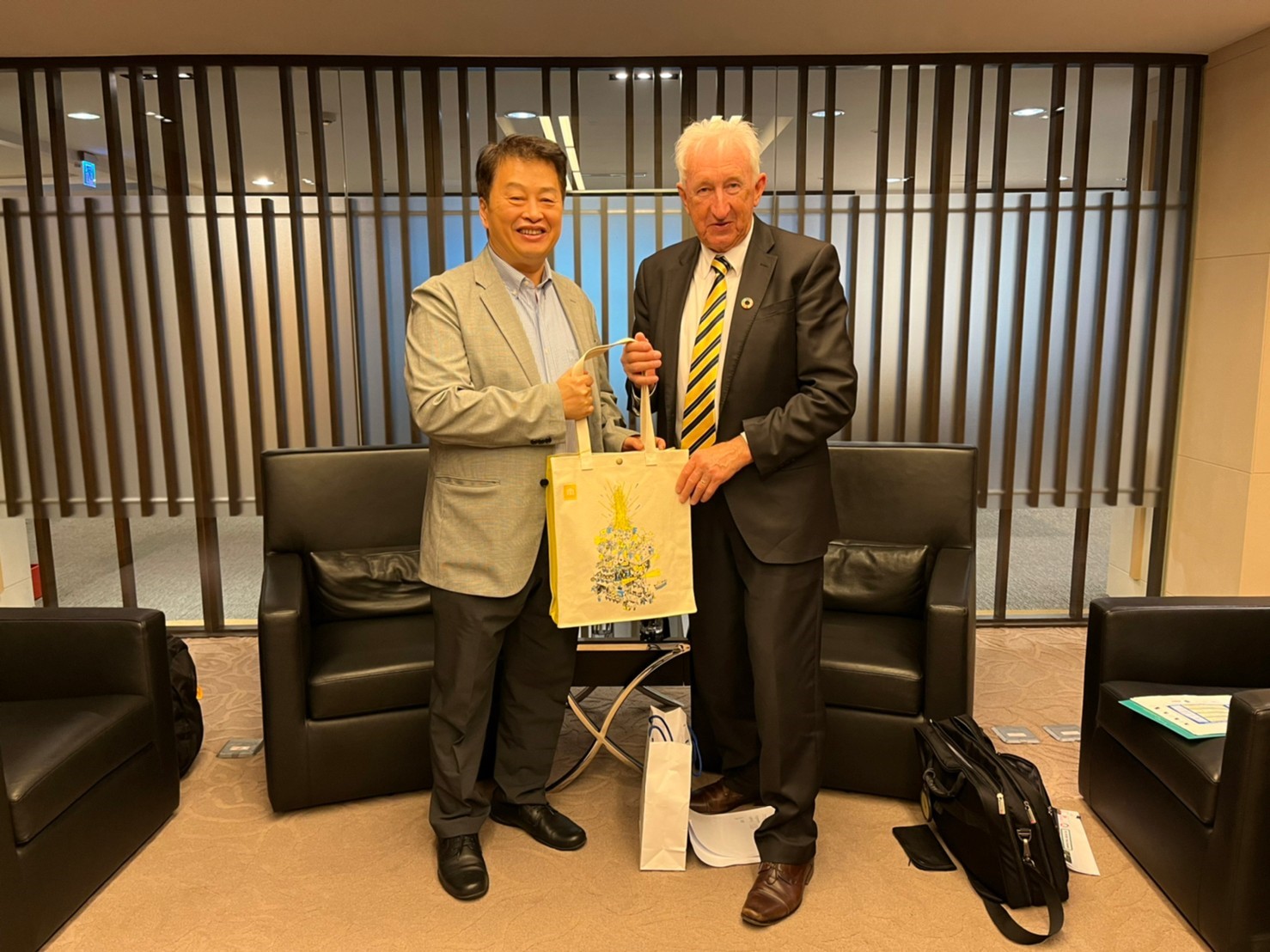 III President Dr. CH Cho and Mr. Watt posed for a photo after their fruitful meeting at the III office.