As part of its networking program, AFACT Permanent Secretariat made courtesy calls on Focal Points in Thailand, Malaysia and Korea, respectively, to re-connect the ties with AFACT Members which represent 20 countries in the Asia-Pacific region.
Thailand
On September 14, AFACT General Secretary Ms. Vivian Huang paid a visit to the Digital Council of Thailand (DCT) which just came on board to represent Thailand at AFACT. Led by DCT Vice Chairman Ms. M.R. Nongkran Chompoonut, senior management from DCT greeted Ms. Huang at their office and made a presentation on DCT. Established under the Digital Council for Economy and Society of Thailand in 2019, DCT acts as an important organization working with the private sector, the government and the public sector to increase the capability of digital competition, digital personnel development and sustainable national development. Currently, under DCT, there are 22 digital industry associations consisting of more than 4,000 individuals and juristic persons covering business or digital industries. Given the fact that DCT is the major organization conveying the voice of Thailand's ICT sector, Ms. Huang is sure that it is in the position to represent Thailand in AFACT.
To provide a better understanding on AFACT, the Permanent Secretariat staff then made a brief introduction to AFACT's background information, structure and recent activities. Most importantly, Ms. Huang shared that the 41st AFACT Plenary Meeting will be held in Taiwan on December 1, alongside the 2023 eASIA Awards Presentation Ceremony. In addition to extending her invitation to DCT to join these significant events, Ms. Huang also encouraged DCT to nominate outstanding projects to join the eASIA Awards which is a renowned international contest for trade facilitation and e-commerce.
The meeting concluded with exchange of views on how the two sides can promote cooperation and build up closer connections among AFACT members. In addition to Ms. Huang and Ms. Chompoonut, also present at the meeting were DCT Vice Chairman Mr. Thong Tangsritrakul, Vice Chairman Mr. Lak Taechawanchai, Vice Chairman Dr. Veera Veerakool, Director General Dr. Atip Asvanund, Advisory Dr. Somnuk Keretho and Advisory Ms. Rapeepan Thawornwanchai.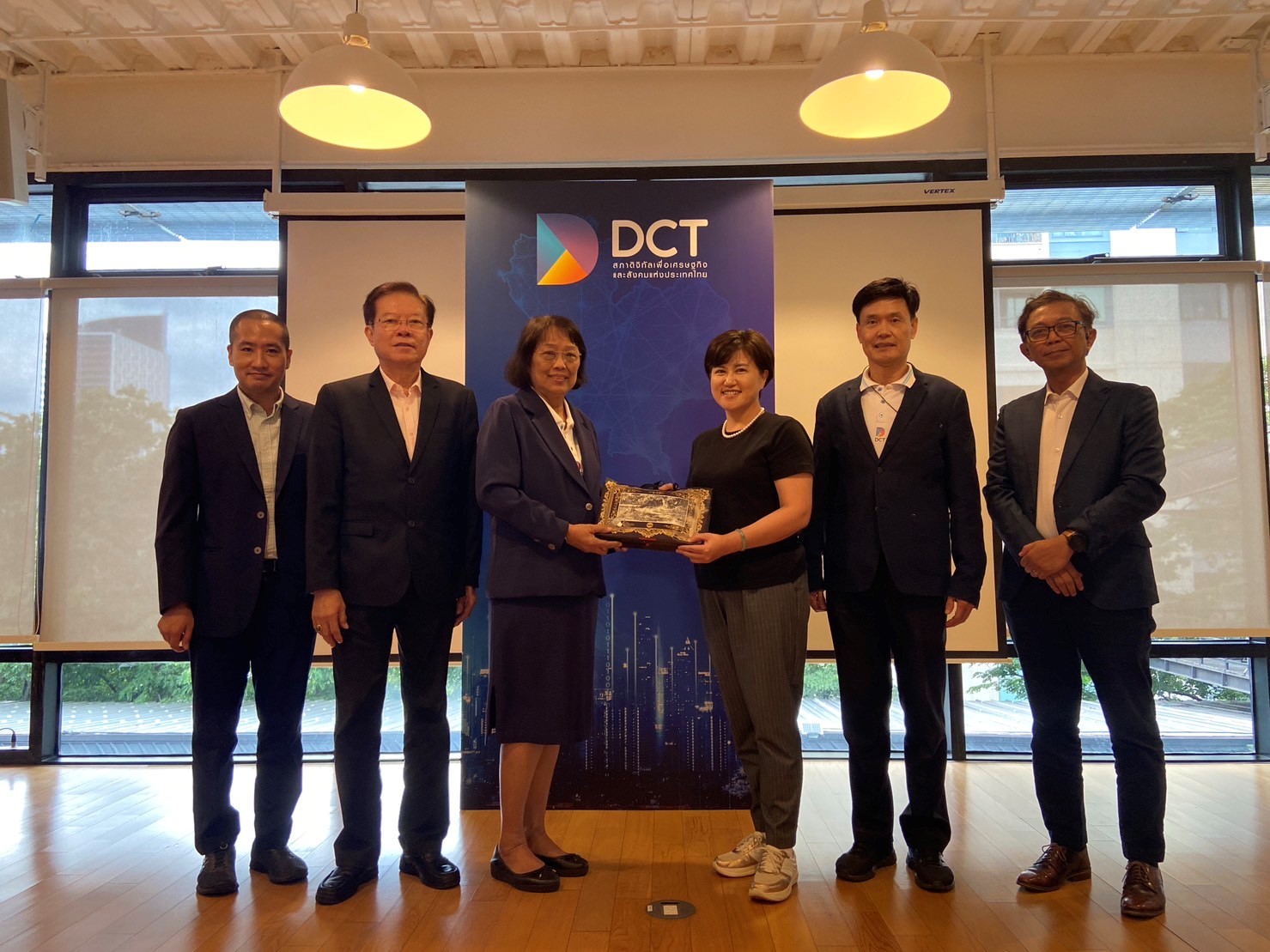 AFACT General Secretary Vivian Huang (third from right) and DCT Officers posed for a group photo following their meeting at the DCT office.
Malaysia
Taking advantage of her business trip to Malaysia, Ms. Huang called on The National ICT Association of Malaysia (PIKOM), AFACT Focal Point in Malaysia, again on September 20. This was her 2nd visit to PIKOM in 2023 following the first one in February.
Warmly received by PIKOM CEO Mr. Ong Kian Yew, Ms. Huang updated Mr. Ong on the latest developments of AFACT and upcoming events, including the 41st AFACT Plenary Meeting and the 2023 eASIA Awards to be organized in Taiwan in early December. She invited PIKOM to join the Plenary Meeting and submit projects for the eASIA Awards contest as it is a valuable occasion for companies to showcase their services and projects. Developed with the support of various industrial sectors, Malaysia is encouraged to nominate projects to join the Awards program which is composed of three categories, namely Smart Governance & Management, Digital Transformation for SMEs, and Sustainability & Circular Economy. Taking this opportunity, Ms. Huang also expressed her appreciation to PIKOM for its standing support of AFACT and its activities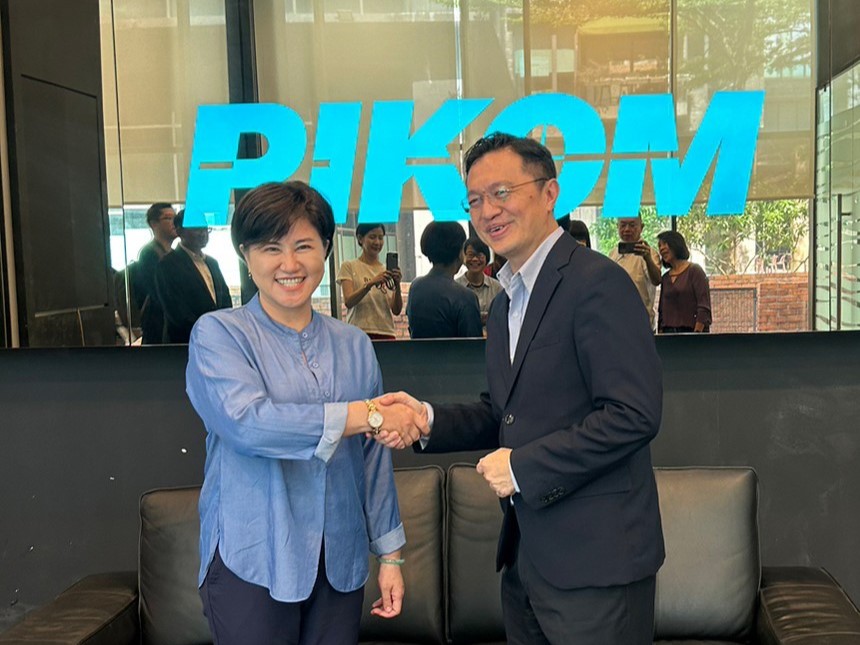 PIKOM CEO Ong Kian Yew gave AFACT General Secretary Vivian Huang a warm welcome and renewed PIKOM's ties with AFACT.
Korea
Mr. Jin Hyung Jeon, Supervisor of e-Document Promotion Team, Korea Internet & Security Agency (KISA), and Ms. Won Kyung Woo, Researcher of e-Document Promotion Team, KISA, met with Ms. Huang in KISA premises on September 27. During their meeting, the two sides discussed the 41st AFACT Plenary Meeting and the 2023 eASIA Awards, the major annual events of AFACT for this year. In particular, Ms. Huang welcomed that KISA has decided to nominate two projects to the join the Awards program. Also, she reiterated her gratitude to Dr. Kerri Ahn, HoD of Korea, who has accepted AFACT Permanent Secretariat's invitation to be a member of the Awards Evaluation Committee and come to Taiwan to join the 41st AFACT Plenary Meeting. On his part, Mr. Jeon stressed KISA's support of AFACT and looked forward to returning to Taiwan again after a KISA delegation attended the AFACT International Forum conducted in March in Kaohsiung City.
In terms of possible areas of cooperation, Ms. Huang noted that KISA specializes in digitalization and paperless transformation, and therefore would like to invite KISA to share its projects, such as e-invoice, with AFACT members to generate possible cooperation. In response, Mr. Jeon said that KISA would be pleased to work together with AFACT members and expect to learn from other countries as well through the platform of AFACT.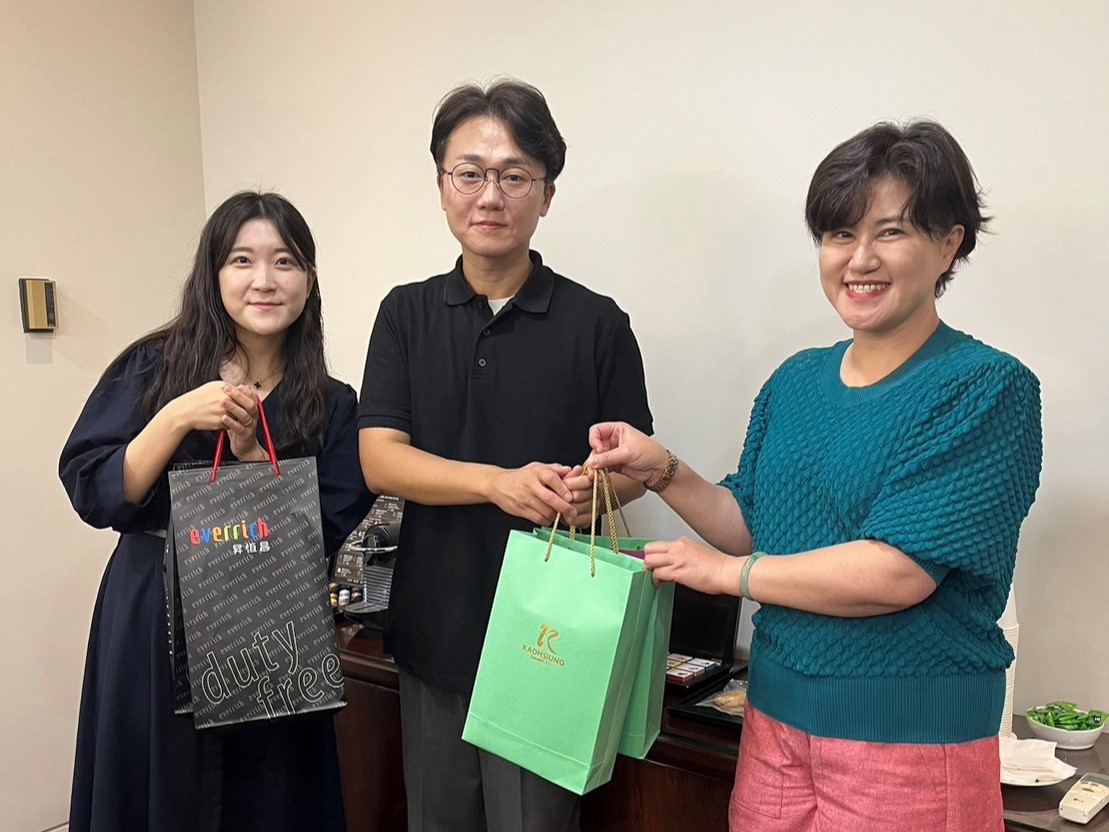 Mr. Jeon and Ms. Woo from KISA exchanged gifts with Ms. Huang after their meeting on September 27.